Welcome to Lyneal Activity Centre
The Old School, Lyneal is owned by Girlguiding Shropshire, who purchased the property in 1994. It has been converted into a residential centre, fully equipped for 24 people. It is situated in the north of the County and is around a 30minute drive from Shrewsbury. It is suitable for groups of all ages, It is primarily for the use of Girlguiding and Scouting but is avilable for hire by other youth organisations and local community groups.The ground floor is fully accessible and the upstairs dormitories are carpeted and beds equipped with mattresses, mattress covers and pillows.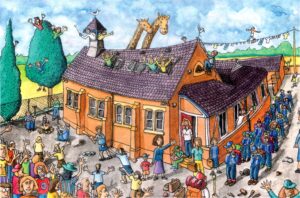 Shropshire Guiding has invested in many new developments over the last three years. There is a large TV screen, DVD player and internet connection. The Centre has been redecorated and refurbished. We trust these developments enhance your stay and help to widen the opportunities available to all users.
Lyneal Activity Centre. Newton Ellesmere, Ellesmere, Shropshire SY12 0QQ
Lyneal Activity Centre is also available to booked for a Day/part day or evening for guiding activies. Our charges: £50 for a day and £25 for part day or an evening.