The Hall (The main activity/dining room)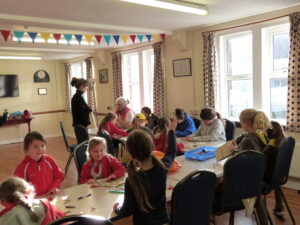 40 comfy upholstered chairs.
6 large craft tables, 6 large dining tables and 5 smaller tables.
Large wall mounted TV screen with cable links, which enables you to bring your computer to support work/ activities/ training. There is also a DVD player: why not bring a DVD to fit your theme. The centre has a TV licence and therefore you can watch iPlayer. A WiiFit and Geocaching equipment is available for your use. Lyneal Activity Centre has its own internet connection, code on site.
The Dormitories
Dormitory 1 has 3 sets of bunk beds and 1 single bed.
Dormitory 2 has 2 sets of bunk beds and 4 single beds.
Leaders' Room
There are 3 +1 single beds. The emergency land-line phone and internet hub are in the leaders room. There are 3 comfy chairs. The shop is also in leaders room. 5 additional fold out sprung camp beds may be added to dormitories as needed.
Kitchen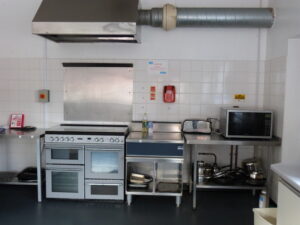 Cooking facilities are on the large gas range cooker. There are sufficient utensils for making everything from a pizza to a full roast dinner! Toasters, microwave, fridge and fridge freezer all help with meal and food preparation.
Toilets and washing facilities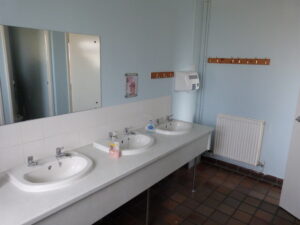 separate showers, toilets and washing rooms, separate accessible shower/toilet often used as leaders facilities.
Outside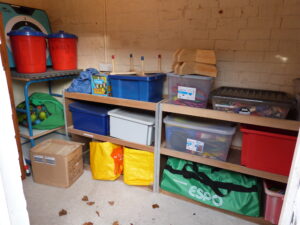 There is a secure outside space. 'Playground equipment' is available for your use in the outside storage shed. There is a grassy area across the road that may be available for games by Lyneal users. We have a small stock of craft materials/ activities for your use.
Shop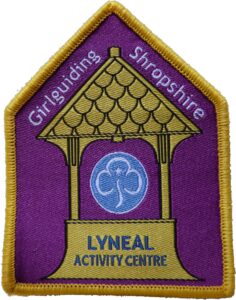 'Exclusive' Lyneal Activity Centre badges are a great reminder of your unit holiday. New branded stock include pens, pencils, multi coloured highlighters, teddy bear key rings, Shropshire County Standard badges and assorted 'pocket money' items are available on the 'bargain basement' shelf!